About Jill
I am a woman of the Word, called to be a woman of the word.
Hello, Dear Reader!
Glad you dropped by. If you're looking for a little information about me and my writing journey, you've come to the right page.
My first and only marriage is going strong after 35 years. The picture below shows me and my hubby at an orchid farm near Chiang Mai, Thailand. We've been doing short-term missions in Northern Thailand since the year 2000. In the last few years following my husband's refirement (not retirement), we have spent several months of the year living and working at a mission training center.
Many Minnesotans of our age spend the winter months "Snowbirding" in Florida or Arizona. Since we aren't content with such a short journey away from the cold and snow, I call our sojourns in Thailand "Snowbirding on steroids."
Our four offspring have flown the coop and established nests of their own, happily providing us with numerous grandchildren. In time-honored grandparent tradition, we love to have them visit us so we can wind them up and send them home. We call it pay back!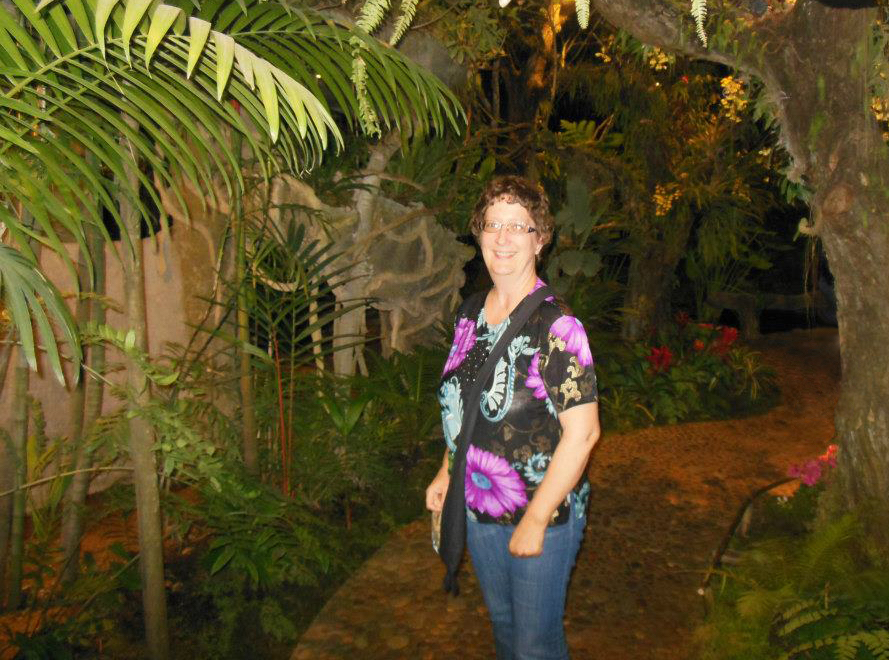 When not acting in my roles as wife, mother/grandmother, or mission worker, I throw off my mask of conformity and turn into a wild and crazy writer who can hardly wait to jot down all the cool things my characters are telling me, so I can share them with my readers.
Did I say I hear voices? Alas, I've been like this most of my life. At least since sixth grade, when I penned—er, penciled—my first mystery novel. No trace of that manuscript exists today, and the world is grateful.
My writer's journey has taken me in many different directions. I've walked the roads of journalist, columnist, essayist, poet, story teller and book reviewer. My current writing path is the one I've coveted all along — novelist. My Guide and Mentor in all my travels is my Lord and Savior, Jesus Christ. To Him be the glory!
Check out the tales my characters have been telling me on my Books pages and feel free to drop me an email on my Contact page. And if you'd like to keep in touch, please don't leave without signing up for my email announcements.
Excellent Blessings,
Jill
Endless Adventure ~ Timeless Truth
If you enjoy suspenseful mysteries seasoned with romance, humor, and faith, you've found a place to kick back and spend some time. Just remember to lock your doors and keep an eye out for trouble!